30x30 Items:
17) I Heart Ronson for JC Penny Black Lace Dress
7) Old Navy Checkered Button-Up
26) Forever 21 Boots

The Icing:
Forever 21 Necklace

Awkward...
Telling a creepy guy trying to sell spa packages that we can't have solicitors in the store to which he replies "I'm not from Sicily" as he flashes a pervy smile. Ewww gross!
When you're at a stoplight and you know in the back of your mind that the car next to you totally saw you singing your heart out.
When pebbles some how still find their way in my ankle boots. Do they have tiny springs or something?
Where it's so slow at work, customers start looking annoyed because they're the only ones there and we keep greeting/checking up on them.
Getting caught talking to yourself at work. This has happen to me on numerous occasions.
When your tights don't want to stay up and you have to constantly pull them up.
Awesome...
It's so slow at work that you can leave 10 min after the store closes and still make it in time for Parks & Rec.Yes!
Finally getting my hands on a MacBook on Sunday. No more hand-me-down computers for me!
Going to Sephora. It's my little make-up heaven and I always end up leaving with something.
After being on the computer for 2+ hours and rapidly clicking on the refresh button, I finally got my tickets for Comic-Con.
New magazines. The only reading I'm doing right now. :P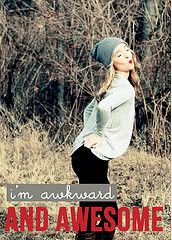 Today's post title comes from Sleigh Bells "Rill Rill."